---
Dr. Jason Yeatman is an Assistant Professor in the Graduate School of Education and Division of Developmental and Behavioral Pediatrics at Stanford University. As the director of the Brain Development and Education Lab, the overarching goal of his research is to understand the mechanisms that underlie the process of learning to read, how these mechanisms differ in children with dyslexia, and to design literacy intervention programs that are effective across the wide spectrum of learning differences. A major component of this work is the development of new quantitative brain imaging methods for modeling the neurobiological basis of cognitive development.
---
---
---
Adam Richie-Halford is a postdoctoral scholar in the Division of Developmental-Behavioral Pediatrics at Stanford University and an affiliate of the eScience Institute at the University of Washington. He received his Ph.D. in physics from the University of Washington. Along the way he also served as an officer in the Air Force and as a Peace Corps volunteer in the Kingdom of Morocco. Adam is interested in developing statistical learning techniques for the analysis of neuroimaging data and new browser-based technologies to assist in the deep phenotyping of dyslexia. He is also interested in developing open-source software tools to enable other scientists to analyze and share large datasets. Adam is a member of the Software and Data Carpentry communities.
---
---
---
Carrie Townley-Flores is the Director of Research and Partnerships for the Rapid Online Assessment of Reading (ROAR). She is a PhD Candidate in Stanford's Graduate School of Education, where she is advised by Sean Reardon and Jelena Obradović. Before coming to Stanford, Carrie taught elementary, middle, and high school in Michigan, New Hampshire, and Finland. Her experiences with the deep inequalities in the U.S. education system brought her to Stanford to study education policy. Working with many middle and high schoolers who had not received the literacy education they needed to thrive led her to the ROAR. She has a B.A. in English and Education from University of Michigan.
---
---
Maha is broadly interested in the intersection of higher-order mechanisms, like attention, in the functional reorganization of the brain. Naturally occurring conditions like amblyopia and dyslexia particularly interest her. At Stanford, her studies will focus on the role of visual attention in Dyslexia.
---
---
---
Sendy is an Assistant Professor at the University of Modena and Reggio Emilia (Italy) and a visiting scholar in the Brain Development and Education Lab. She is interested in how language comprehension changes as a function of experience. At Stanford, she is trying to characterize functional and structural brain changes related to reading acquisition using electrophysiological (MEG) and diffusion MRI measures.
---
---
---
Maya is interested in the neural bases of language learning and reading. After completing her PhD at Bar Ilan University, focusing on white matter correlates of reading in adults, Maya's research at Stanford will explore reading and brain development in children with dyslexia. Maya aims to combine structural and functional MRI to shed light on mechanisms of brain plasticity that support reading improvement following reading intervention.
---
---
---
Sam Johnson joined Jason Yeatman's neuroscience and education laboratory as a postdoctoral scholar. After finishing his PhD in theoretical physics at MIT, Sam returned to his hometown of Seattle, where he worked as a data scientist specializing in deep learning. Now, he's happy to bring this experience to the research world, particularly at this moment, when deep learning algorithms originally inspired by neuroscience have matured to the point that they can aid neuroscience in turn. His current project draws on deep learning methods from computer vision to investigate how the details of brain anatomy influence individuals' reading abilities. In addition to his academic interests, Sam loves art of all kinds, and he even makes art on occasion in the form of music and poetry.
---
---
---
Jamie is a PhD candidate in the Graduate School of Education's Developmental and Psychological Sciences program at Stanford University. She received her B.A. in Education Sciences from the University of California, Irvine, focusing on Children's learning and Development and received a minor in Psychology and Social Behavior. As and undergrad and postbaccalaureate, Jamie was a research assistant in the Individualizing Student Instruction Lab where she assisted in the development of the OLOS classroom observation system. Jamie joined the Brain Development and Education Lab in July of 2020 shortly before begining her graduate studies that fall. Her research interests focus on the role of the visual system in reading and utilizing fMRI to study the neural underpinnings of reading. Jamie is particularly interested the neural processes involved in reading development in special populations (such as those who are Deaf and Hard-of-Hearing) who have difficulty learning to read.
---
---
---
Megumi is a doctoral student in the Graduate School of Education at Stanford University. Her research focuses on children's literacy experiences in the early elementary school years, with a special interest in designing literacy instruction that promotes student agency and school belonging. Her work is driven by her former experience as a public school teacher in South Korea and Seattle, as well as her childhood of growing up bilingual in California and Japan. Before starting her doctoral studies, Megumi worked in the Brain Development and Education lab, where she managed the lab's transition from the University of Washington and served as the lead project coordinator of a summer reading intervention study. She is a recipient of the Fulbright teaching fellowship and graduated from Wellesley College with a degree in neuroscience and elementary teaching credentials.
---
---
Anya is a Ph.D. student in the Graduate School of Education's Learning Sciences and Technology Design program at Stanford University. She received her B.S. in Computer Science and Teaching Chemistry 7-12 from New York University and M.S.Ed in Learning Sciences and Technologies from the University of Pennsylvania. Anya's previous research focused on science education and learning analytics. After teaching middle school chemistry for two years in Brooklyn, NY, she became more interested in developing computational learning tools to support children with special needs. At Stanford, Anya is excited to explore adaptive reading assessments and interventions for children with varied reading abilities.
---
---
---
Ethan Roy is a third-year graduate student in the Developmental and Psychological Sciences and Learning Science and Technology Design programs working with Bruce McCandliss and Jason Yeatman. Before coming to Stanford, Ethan received a B.A. in neuroscience from Middlebury College and taught English and math in Spain, Vermont, and Costa Rica. He is excited to combine his interests in education and neuroscience to help further our understandings of how the brain changes as students learn mathematics and how to reason numerically.
---
---
Klint is a PhD candidate in Stanford's Graduate School of Education, where he is advised by Maria Araceli Ruiz-Primo and Ben Domingue. He received his B.A. in Physics from Drexel University and his M.S. in Computer Science from Stanford University . Before coming to Stanford, Klint taught Physics in the School District of Philadelphia. His work is centered around applying psychometric and computational methods to advance ideas of validity in assessments.
---
---
---
Julian is a third-year PhD student in the Developmental and Psychological Sciences and Education Data Science programmes, supervised by Guillermo Solano-Flores. His research aims to increase linguistic fairness and equity in cognitive assessments, as well as to conceptualise and trial inherently multilingual means of assessment. He is also interested in (interactive) data visualisation and effective science communication. Prior to coming to Stanford, Julian received a BSocSc(Hons) in Psychology, Linguistics, and Sociology and MScoSc in Psychology from the University of Cape Town, as well as an MPhil in Psychology and Education from the University of Cambridge.
---
---
Shoaib is a Master's in Computer Science student at Stanford University. Born in Hyderabad, India; Shoaib spent most of his life in Dubai completing his undergrad from BITS Pilani. Shoaib then worked as a Software Engineer in a machine learning team at Amazon in Berlin, Germany and is now working on developing and maintaining the infrastructure for ROAR. Shoaib is passionate about building a free education system and also wants to improve accessibility for people with special needs.
---
---
Jewelia is a PhD student in the Neuroscience area of the Department of Psychology working with Kalanit Grill-Spector and Jason Yeatman. She earned her BA in Psychology with a minor in Early Development from UC Berkeley in 2020, working with Kevin Weiner and Silvia Bunge. Before joining Stanford in Fall 2022, she worked with Jesse Gomez in the Brain Development Lab at Princeton University. Her research leverages multimodal approaches to understand the development of brain function, neuroanatomy, and behavior as children learn to read.
---
---
Jasmine joined the lab after receiving her B.A. in Psychology from SJSU. She previously interned at AnLar, where she worked on projects for the Massachusetts Department of Early Education and Care and the Louisiana Department of Education. After seeing how research influences early education policy, she became interested in exploring educational psychology and its' practical applications. Jasmine is excited to explore educational interventions for diverse learners and fidelity monitoring. Outside of the lab, Jasmine spends her free time being bad at video games and eating free Costco samples.
---
---
Hannah joined the lab after graduating from the University of Rochester with a B.S. in Neuroscience and a minor in Chemistry. She previously worked for Marmolab at the University of Rochester's Center for Visual Science where she studied how internal brain states effect visual processing. Hannah has also worked as a teaching assistant, tutor, and tour guide and is excited to explore the neural processes behind education and learning. Outside of work she enjoys surfing, painting, and working on her pilot's license.
---
---
Mia joined the lab after completing her BA at the University of Pennsylvania in Psychology and Criminology. During her time as an undergrad, Mia worked with Dr. Allyson Mackey's Changing Brain Lab where projects explore how the brain changes as children grow up and learn new things. Mia focused her work there on exploring ways to optimize positive outcomes for child learning. Mia has worked in a variety of roles to support disadvantaged populations from tutoring to coaching to having held social work positions. Outside of the lab, Mia can often be found exploring dog parks and hiking trails with her husband, Jayson, and puppy, Nala.
---
---
Tonya is interested in the translation of reading research to practical application in schools. She's excited about applying the Design Thinking methods she learned during her M.S in Learning Design & Technology program at Stanford to the ROAR (Rapid Online Assessment of Reading) software. Before coming to Stanford, Tonya spent over 15 years working as a software engineer and project manager. She was inspired to become a reading researcher by seeing the progress her dyslexic son made when he received effective intervention.
---
Undergraduate Research Assistants
---
---
Grace is a sophomore at Stanford majoring in Human Biology and minoring in Education. She joined the lab in December 2020 as a Wu Tsai NeURO Fellow, and has continued to work within the lab. She is interested in working on projects related to attention and dyslexia, as well as projects generally focused on educational neuroscience and children.
---
---
Katelyn is a junior at Stanford majoring in Psychology, Neuroscience Pathway and double minoring in Human Biology, Epidemiology Subplan and East Asian Studies, China Subplan. She joined the lab in September 2021 and is excited to work on projects regarding neuroscience and children, focusing on reading and attention. Katelyn is from Yorba Linda, California and spends her spare time singing with her a cappella group, reading, and traveling with her family.
---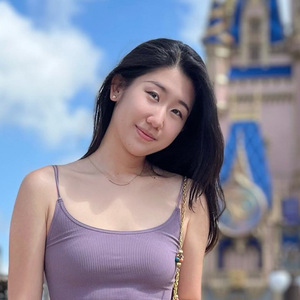 ---
Charlotte is a junior at Stanford majoring in Psychology, Early Childhood Cognition, Learning, and Development Pathway, and minoring in Religious Studies. She joined the lab in January 2023 and is very excited to learn from working on the LMB project and other studies related to early prognosis of dyslexia, general learning behaviors, and childhood cognitive development. She works as a part-time educational consultant and would love to explore ways to make education more effective from a neurocognitive perspective. Charlotte is from Shanghai, China, and, outside of school and lab, she loves traveling, scuba diving, singing, cooking, and running a candle business with her best friend.
---
---
---
Loran (he/him) is a freshman at Stanford interested in the intersection of language and neuroscience, but is currently unsure of his major. He is from Los Angeles and has experience teaching kids math, reading, and horseback riding. Loran loves nothing more than working with kids and since joining in January 2023, is excited to combine his passions with the LMB project and more. Outside of the lab, he can be found running, watching movies, or playing Pokemon.
---
---
Willy is a freshman at Stanford studying math and computer science. He finds pleasure in teaching others and is interested in the intersection of computational neuroscience and cognitive psychology. Willy is from New Jersey and joined in January 2023. Outside of the lab, he is a huge fan of scary movies, lacrosse, and designing electronics.
Maya likes to explore California with her family. Since moving here from Israel they are looking for the perfect beach
Jamie and her husband moved to Stanford from Southern California. In their free time, they like to watch movies, play games, explore new restaurants, and visit family.
Mia and her family moved to Stanford from Philadelphia, but are originally from Arizona. They used to enjoy long drives, but Nala drew the line at two cross country trips.
When he's not in the lab Jason is adventuring in the mountains with his family.
Carrie started grad school with a baby and a toddler, who have since grown up on Stanford's campus. In their free time, they like to hike, camp, and swim all over California.
Jasmine has two younger brothers and comes from a tight-knit family of Vietnamese and Chinese immigrants. They love eating at their favorite spots in East San Jose and exploring California's beautiful landmarks.
Anya and her husband, both from Beijing, moved to the Bay Area after studying on the East Coast. They enjoy Asian food, hiking, and watching anime with their cat Tora, who prefers solitude to being hugged.
Graduate Student, Stanford University Department of Psychology
---
Research Scientist, UW Institute for Learning & Brain Sciences
---
Assistant Professor, Department of Psychology, Pusan University, Korea
---
---
---
---
---
---
---
---
---